V6: The Archive
A rationale for a redesign.
Twenty years ago, techno-utopians rightly recognized that the internet in general and the web in particular would democratize the distribution of self-expression in a revolutionary way. Over the next decade, the number of blogs sharing art and recipes and poetry and personal stories grew seemingly exponentially, and their proliferation in the wake of the dot-com crash was a testament to the noncommercial, grassroots nature of the movement. As hand-coded sites gave way to hosted blogging services, the market for a lower barrier to entry for online expression became clear, and before long, social networks took over the world. Nowadays, the only people with personal websites are those who find the offerings of social networks and other third-party services insufficient. Those insufficiencies are typically about control, and for me, they mainly boil down to a handful of issues, which the redesign I've launched today aims to address.
Third-party services are ephemeral
Nothing lasts forever. The vast majority of tech startups are lucky to survive more than a couple years, and the ever-consolidating handful of corporate giants housing our memories online have little reverence for the trove of human experience they oversee. When these services disappear, our stuff disappears with them. Even if we're able to export everything and find a new home for it, that new home will be just as precarious.
Our lack of autonomy is compounded by being spread out all over the internet. We leave little pieces of ourselves in countless digital spaces, making a full accounting of what we've shared inconvenient at best, and impossible at worst.
I don't pretend everything I do or say online is worthy of preservation. But while I'm still breathing, I want to be the one who decides what gets preserved and what doesn't. And I want it all to be available in one place. Owning and operating my own site is the only way.
Everything comes home
RobWeychert.com V6 collects nearly everything I've written for public consumption since 20021. Posts come in many shapes and sizes: self-contained one-liners, lengthy essays, scattered status updates, film reviews, magazine articles, collected links, interviews, and more. Most posts originated on one of my own websites, but many were first published elsewhere. Whenever possible, each post includes a link to its original context, and to clear up search engine ambiguity about duplicate content, that URL is acknowledged in the document head as the canonical source of the page's content, like so:
<link rel="canonical" href="http://v4.robweychert.com/editorials/2005/07/12/4266_fluid_ounces_of_freedom/">
The intention here is that while V6 gives old, previously isolated content a more stable home with a broader context, seeing a post where it originated can be more evocative of its time and place, especially if the design has been preserved.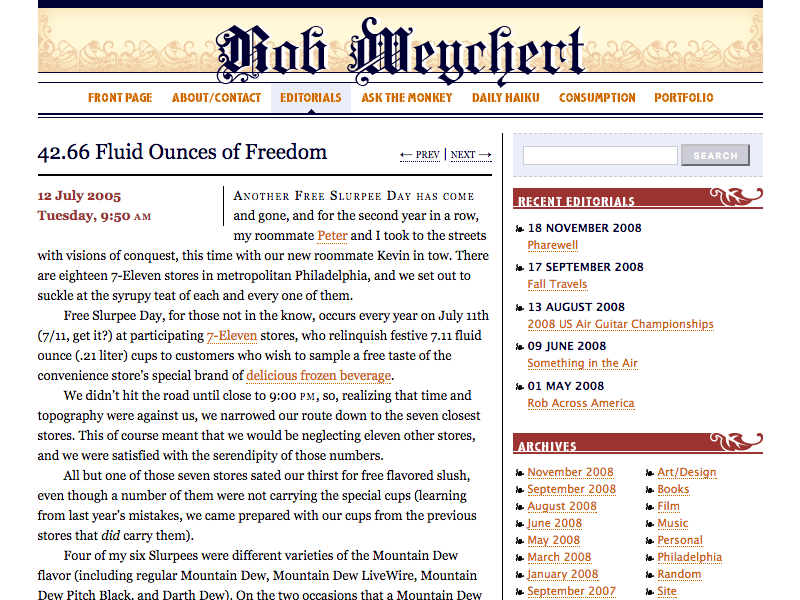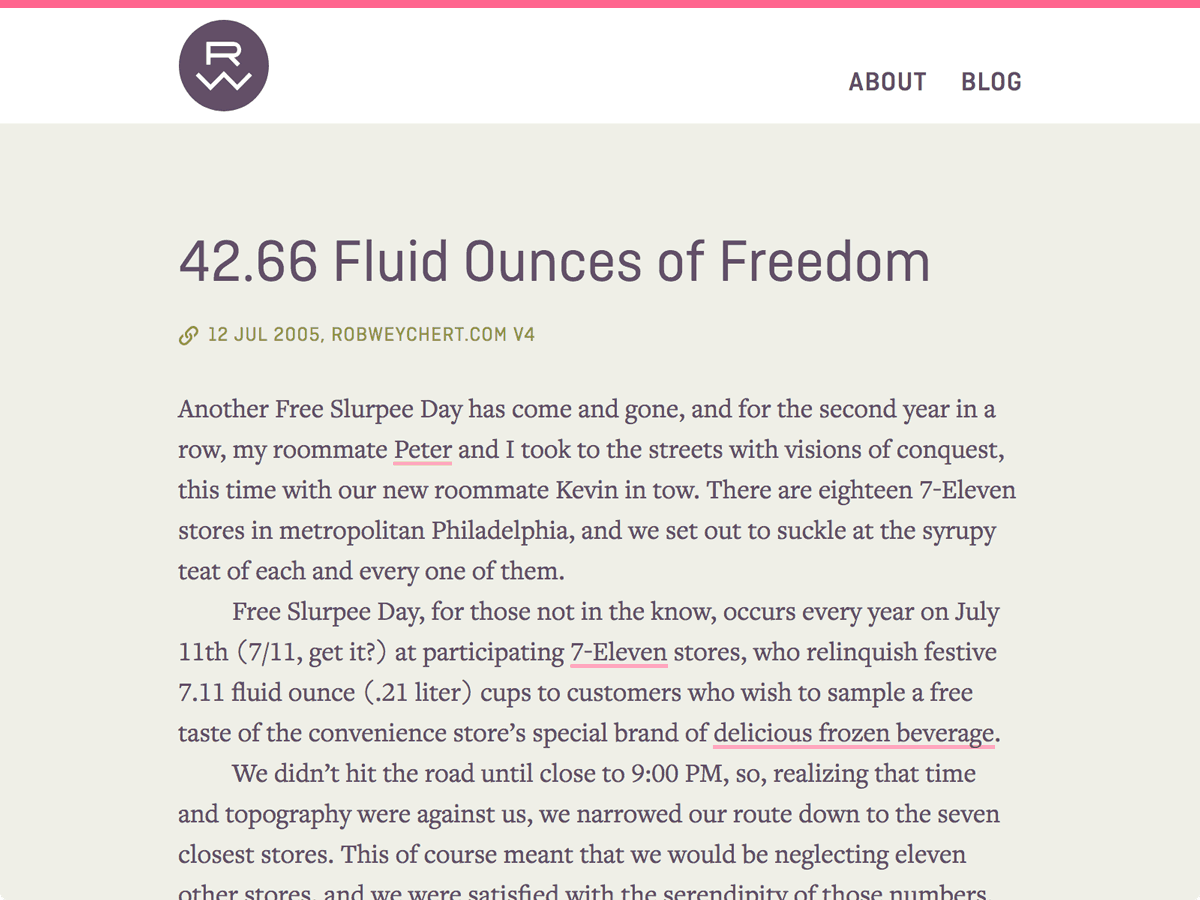 Of course, that won't be possible for every post. At the time of this writing, the archive pulls content from 31 different sites and other sources, some of which are no longer—or never were—online, which brings me to….
Putting the "perma" back in "permalink"
Web pages don't have a great track record of sticking around. Over the years, I've shared links to thousands of interesting things on the web. Now that I've got most of those outbound links in one place, analysis reveals that hundreds of them are now broken.
I'm responsible for breaking my share of links, too. Whenever I've redesigned my site, the previous version has been put on a subdomain (e.g. v4.robweychert.com), and poof! Anyone who was kind enough to link to that previous version would suddenly reach a dead end. I finally sorted that out with some .htaccess magic. For example, this little snippet efficiently redirects broken links to any of my V5 posts:
Redirect 301 /writing/ http://v5.robweychert.com/writing/
Virtually all broken links to previous versions of the site are now fixed, and going forward, new versions will live on subdomains, too, so these kinds of .htaccess shenanigans won't be necessary in the future.
Anyway, the point is this: I've been sharing things online for more than half my life, and much has been lost. Ephemerality has its place, and I'm sure plenty of my nonsense belongs on the scrap heap. But hopefully the approach I'm taking now will give more of my stuff a reliable home for as long as it needs one.
Third-party services are one-size-fits-all
I'm a designer. I'm pretty particular about how ideas are organized and presented. Facebook, Twitter, Medium, et al may offer users a modicum of customization, but whatever you're publishing is mostly at the mercy of a designer who's never met you. Having a personal site gives me a place to experiment and allows me to package my ideas with as much precision as I need.
Though the vast majority of my posts will use the same template, it's a versatile one designed specifically for my publishing needs and aesthetic sensibilities, offering a wide variety of format/size/orientation combinations to accommodate pretty much any content type I might throw at it. If its options do fall short of what I want to do with a particular post, the system I've set up in Jekyll (the software I'm using to generate the site) can easily allow that individual post's design to be modified with a simple addition to the post's front matter:
modified:
  - css
  - js
Or if I want a completely custom design for a post, I can create a unique layout for it:
layout: 2017-09-11-v6-the-archive
I'll go into more detail on V6's typography, proportions, and color in two forthcoming posts, but for the moment, suffice it to say that this is the most robust web design playground I've built for myself so far, and I'm looking forward to getting my hands dirty.
So what now?
The substance and frequency of what I'll post here remain to be seen. If Letterboxd reviews and monthly link digests continue to dominate the archive as they have for the last few years, so be it. Writing is difficult and time-consuming, and I know from experience that my patience for it ebbs and flows, so I have no plans to pressure myself with schedules or quotas. However, my intention is to get back to regularly sharing creative projects and documenting my thoughts on design and culture, and I've worked hard to make this a great place to do that. Wish me luck!
---
Footnote