Chicago, IL—Tomorrow is Memorial Day, and if the freedom our generations of soldiers have fought to defend is encapsulated by one thing, it is the option to ride a Spongebob Squarepants roller coaster within shouting distance of dozens of fast food vendors and a vast selection of clothing assembled by Indonesian children for pennies. Hardcore consumerism has been the crucial ingredient most conspicuously absent from this trip's American story, and so today, we memorialized our fallen heroes one day early with a visit to Mall of America.
Mike and Sarah, our charming Minneapolis hosts, gave us directions to MOA that we promptly forgot, assuming that it would be impossible not to find a place of such magnitude and magnetism. Incredibly, the signs on both the highways and the local roads surrounding the mall made no mention of it, and our GPS system didn't have it listed. We began to wonder if this place was a thing of myth, a shopper's Valhalla that everyone dreamt of but no one dared build.
When it did finally show itself, it did so with little self-importance. It just looked like a typical shopping mall, only much bigger. And the interior looked like that of a typical shopping mall, only much bigger. And with an amusement park and aquarium. And thousands upon thousands of extra shoppers to fill out the extra space.
As a youth, I spent more time in shopping malls than I like to think about, and there was an odd comfort in the familiarity of this "idealized" form of that environment. What I really wanted to take with me was the sound of the place. It is a collage so layered and drawing from so many corners of a large, fragmented space that its individual elements—roller coasters, various live performances, children, commerce—can barely be picked out. The result is thick yet ambient, loud yet soft, utterly opulent yet utterly banal.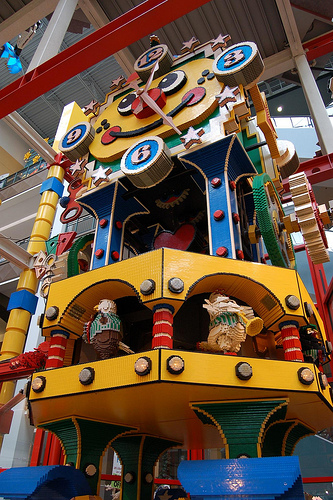 The only true enjoyment we experienced was in the discovery of the Lego store, which would fail to enchant only those with black holes for souls. We started coming down off that high pretty quickly. This is a mall, after all. Once I noticed the Gap had teamed up with the Whitney Biennial to produce a series of t-shirts designed by a number of artists I admire, it was time to leave.
Pointed toward Chicago, I stepped on the gas.