New Orleans, LA—When this circular journey is done, I plan to publish some statistics and tips to help anyone who might want to try something similar. To whet your appetite, here's a sneak preview: Try not to have slept in on the day you discover you've lost your primary point of access to your funds. You'll need that extra time to fruitlessly tear your hotel room apart, swear a lot, and work with your financial institution to find a good way to fix the problem without bringing your trip to a screeching halt.
After a restful-night-turned-restful-morning, I was taking care of unfinished business online for some upcoming destinations when my debit card number was declined. The web site suggested that perhaps I had entered the number incorrectly. "I'll check the number on the card!" I proudly proclaimed to the web site. But the card wasn't in my wallet. Nor was it in my clothes, my bags, the bed, the toilet, or any of my bodily orifices. A call to my bank revealed that someone had found it in the street and been kind enough to call and cancel it. After a few phone calls, faxes, and a variety of identity verifications, I was able to arrange for a new card to be sent to me at my next stop in Austin. Fingers crossed.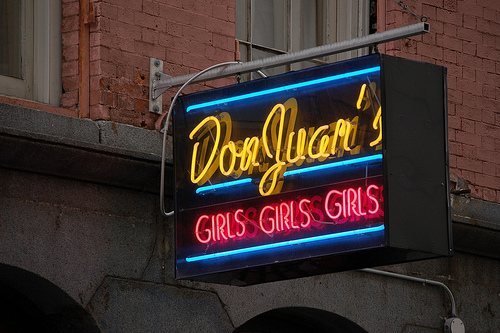 It was after three o'clock by the time that mess had been dealt with, and the day's potential was waning. The remainder of the day was mostly spent wandering the French Quarter, admiring the architecture and antique shops, learning a bit about the city's history, and focusing on the infamous Bourbon Street once darkness fell.
If you didn't already know, Bourbon Street is basically a booze-soaked porno boardwalk, but of a sort harmless enough to attract even the the least adventurous members of the middle-aged middle class. It is replete with well-marked titty bars, souvenir shops teeming with tchotchkes, bars, bars, bars, and a few good jazz and blues bands among many mediocre cover bands. The general "Dude, I'm so fucked up!" atmosphere reminded me of a weekend night in Old City Philadelphia, with the main differences being that the drunks stumbling around were a) legally allowed to drink in public, and b) not exclusively twenty-somethings from New Jersey. In short, it's not my scene, but it's still well worth beholding, even on a Monday night. I did so while sipping a 20-ounce frozen hurricane from a styrofoam cup. I did not see anyone I recognized from Saturday's visit to the Creation Museum.
New Orleans was fun, but lonely. I'm looking forward to a little time with friends in Austin tomorrow night. Onward!