Doing Battle with Boredom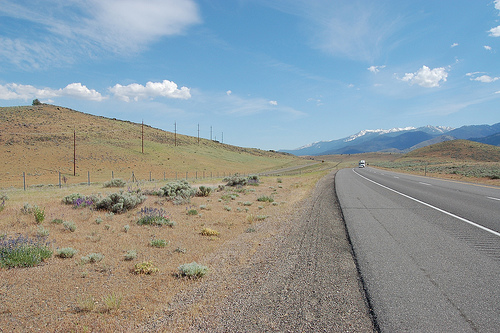 Portland, OR—Neither Wayne nor I was prepared for how quickly northern California surrenders San Francisco's unique metropolitan vistas to what I've come to call "New Ohio." Flat, unremarkable farmland for miles, as far as the eye can see. The scenery eventually gives way to an astonishing panorama of snow-capped mountains, forests, lakes, and hills, but we were initially unsure of exactly how long the bland, agricultural nothingness would plague our eleven-hour drive, so we needed to find new and novel ways to amuse ourselves. Based on what the scenery's inspiration produced, I'm not surprised farmers don't have a reputation for being enormously creative people.
The Consonant Cluster Game
After seeing so many signs hwith the highway abbreviation "Hwy," hwe've decided that for the rest of the trip, hwe hwill pronounce an h in front of all hwords beginning hwith the letter w.
Radio Jingles
We were pretty sure the scant businesses that popped up on our radar in the early part of the day did not already have radio jingles to promote them, so we wrote some for them. I even came up with multiple melodies based on what I thought their budget might be. There were no big budget jingles. Unfortunately, I won't have time to transcribe and arrange the music, but the lyrics have been preserved for posterity.
Annie's Panda Garden Restaurant
We make really good food
Annie's Panda Garden Restaurant
We make food that's really good [pronounced like "food"]
Ashley Furniture Home Store
Tables, chairs, Ottomans, and more
Scandia Family Fun Grand Arcade
They arrested that guy, so don't be afraid
The Milkshake Contest
Since picking up Wayne in Albuquerque eight days ago, I have consumed four milkshakes while he has consumed only three. A root beer float does not count as a milkshake. It's on.
Statistics That Didn't Make It
I mentioned before that I'll be publishing a number of interesting statistics from this trip when all is said and done, and I've been recording a lot of data to support those statistics. However, some unexpected trends have developed that have been realized too late to record. Here are a few:
Number of utterances of "Oh, look, it's one of those M(a)cDonald's hamburger restaurants. It's nice to see a small, local business branching out."
Number of utterances of "Califawnia" as it was exhaled by Bruce Willis in the beginning of Die Hard.
Number of roadside signs—homemade or otherwise—telling us we're going to hell.
The natural beauty of the second half of the day notwithstanding, we were glad to arrive in Portland and catch up with Erin and Peter, the only hosts we'll have during our all-too-brief stop in the great state of Oregon.