US Air Guitar 2012: Washington, DC
It is an election year, and as our president and other political incumbents across the country dust off their dirtiest tricks to retain their posts, so too do our returning regional air guitar champions. Of our first six cities this year, only Portland and Boston are sending new blood to the finals, and neither of their winners from last year returned to defend their titles. So as we pulled up to Washington, DC's legendary 9:30 Club on Saturday, the question was on everyone's mind: would returning DC champ Tommy Fretless (Adam Lee) maintain the air guitar incumbency's 100% repeat success rate?
It wasn't going to be easy. Three-time DC champ and AARP member The Shred (Lance Kasten) was in the house, as were a string of contestants who had used the rest of the east coast competitions as their own personal spring training. The evening would see three-peat appearances from Vlad DM Wailer (Kolb Ettenger), G. Tso Money (Dave Chen), and Doug "The Thunder" Stroock (Doug Stroock), as well as encores from President Baberham Lincoln (Bianca Cevoli) and Tommy Fretless himself.
With so many prime performers warmed up and ready to go head-to-head, one might expect a hell of a show, and that's exactly what DC got. The insanely enthusiastic crowd was loudly supportive of even the lesser contestants and ill-prepared wild cards, but the judges – New York Times Supreme Court correspondent Adam Liptak, former world champ Hot Lixx Hulahan (Craig Billmeier), and former national finalist Fender Splendor (Paul Alexander) – saved their best scores for when the airness was flowing fast and thick.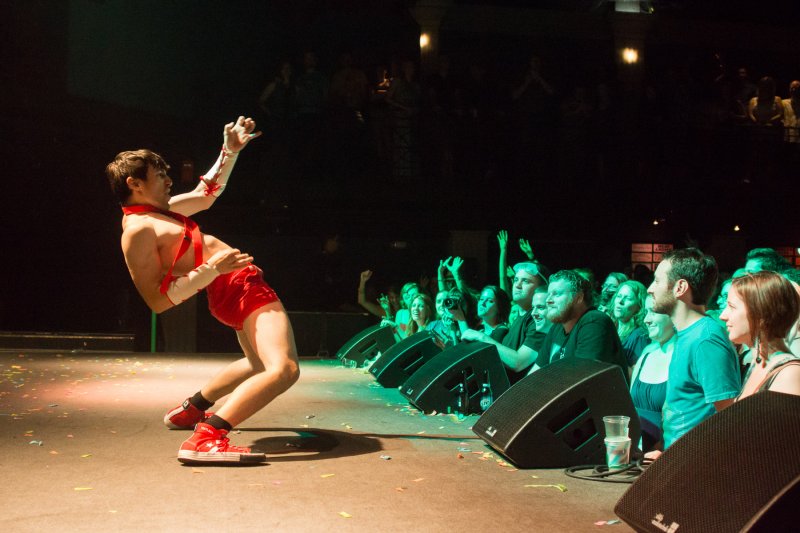 Tommy Fretless's surprisingly smooth signature blend of fluid sexuality and boy-next-door earnestness did not disappoint. Neither did The Shred's uncanny ability to conjure the gesture and joie de vivre of a man thirty years younger and millions of dollars richer. And by the time Vlad DM Wailer finished molding his mass into a XXXL Mick Jagger (by way of Billy Squier), the audience was a mess of bulges and puddles.
All the scores going into the second round were within .2 of each other, and fates would be decided by AC/DC's bombastic "Whole Lotta Rosie." With high stakes, seasoned performers, and the consummate air guitar song, it was a compulsory round worthy of the national stage. But the national stage only has room for one DC representative, and it will once again be Tommy Fretless, whose flawless, acrobatic execution would have easily put the crowd on its feet even if it wasn't a standing-room-only venue.
As the ashes of Washington, DC recede in our rear-view mirror, another returning champ is secure in his tenure, but just barely. What challenges will face the incumbents to come? Who among the mighty will fall?