The Best and Worst of 2000
As determined by BREDSTIK people.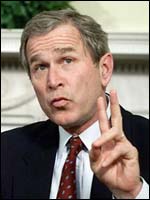 Well, we're done with that year that so many people wrongly described as the beginning of a new millenium and have now begun the year that actually is the beginning of the new millenium (so long as you're a Christian, that is—not that those other people matter much). And while the year 2000 AD had a far less apocalyptic beginning than anticipated, its ending more than made up for any disappointment, granting the title of "leader of the free world" to a pampered, dyslexic ex-president's son whose carelessly concealed criminal record was surely wiped clean when he accepted Jayyy-zis some years ago and began honoring him by executing everyone he could get his hands on from atop his throne in Texas' governor's mansion.
While the "election" may have been a severe letdown for any starry-eyed patriot who believed that democracy still functions the way it's supposed to, luckily the year 2000 also yielded some pretty cool stuff, which, upon reflection, will hopefully help us to cope with the tumultuous four years that lie ahead. If you were able to make it through these two of many existing paragraphs of disenchanted citizens' gripes, read on and find out what BREDSTIK had to appreciate from last year's offerings.
Rob's list
Albums
Godspeed You Black Emperor!: Lift Your Skinny Fists Like Antennas to Heaven. Simply amazing double album from Montreal's nine-piece atmospheric chamber rock ensemble. Best record of the year, hands down.
Cradle of Filth: Midian
Radiohead: Kid A
A Silver Mt. Zion: He Has Left Us Alone But Shafts of Light Sometimes Grace the Corners of Our Rooms
Don Caballero: American Don
Films
Crouching Tiger, Hidden Dragon: Who knew a bone-crunching martial arts movie could succeed as a legitimate drama? Fantastic.
TV
Robot Wars
Jason's list
Best comic book/graphic novel
Acme Novelty Library #13
Best theatrical film release
Princess Mononoke
Best home film release
Nightmare Before Christmas: Special Edition DVD
Best album
Murder City Devils: In Name and Blood
Best live musical act
At the Drive-In
Best thing Rob pestered Jason with
Jason needing to grow a mustache
Best website
Best television show
Futurama
Best video game
Perfect Dark (N64)
Best piece of furniture to ride down a flight of steps after an intoxicating BREDSTIK New Year's Eve party
A mattress
Mary's list
Albums
Radiohead: KID A
The Cure: Bloodflowers
Moby: Play
Cold Play: Parachutes
Keb Mo': The Door
PJ Harvey: Stories from the City, Stories from the Sea
David Gray: White Ladder
Films
The Virgin Suicides
High Fidelity
Best in Show
Chicken Run
American Psycho
Books
The Artful Dodger by Nick Bantock
Jimmy Corrigan, the Smartest Kid on Earth by Chris Ware
TV
The Powerpuff Girls Jackass
Shannon's list
Top ten things of '00
ZOO Station
Jackie 'O Sunglasses
Mine and my boss' oversized heads that house our oversized egos plotting away in our cubicle.
The Word "gOOgle"
The eyelets of the scissors that stab the bastards who live below me and play Dave Matthews at the ass-crack of dawn.
Handcuffs
Dunkin Donuts' #1 breakfast combo
Boobs
Two South Of The Border elevator sombreros in one location.
Ed McMahon